a refuge for writers
on the island of St. John in the US Virgin Islands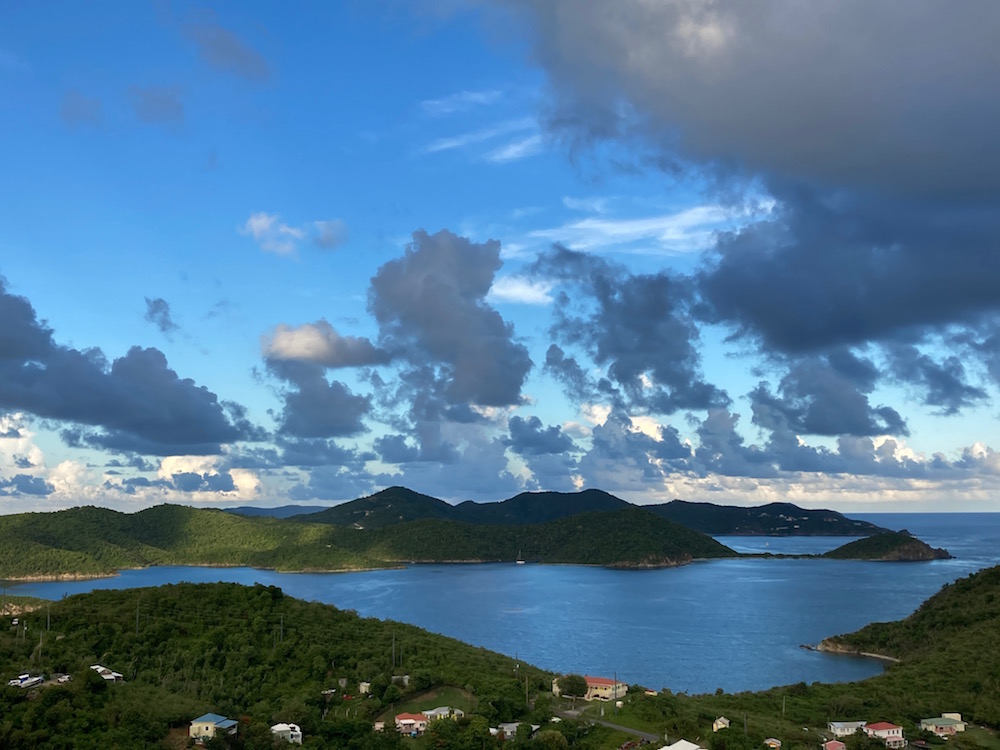 A Writer's Refuge in Paradise
The hardest thing for writers to find, especially right now, is also the most vital – extended time, a sense of calm, and a peaceful place to do their work. Poet Cottage is a private, relaxed, well-appointed 450 square foot studio on a hill overlooking the Caribbean Sea and the Virgin Islands National Park. The cottage is a brand new one-story masonry home with endless views, wifi, air conditioning, and a washer/dryer.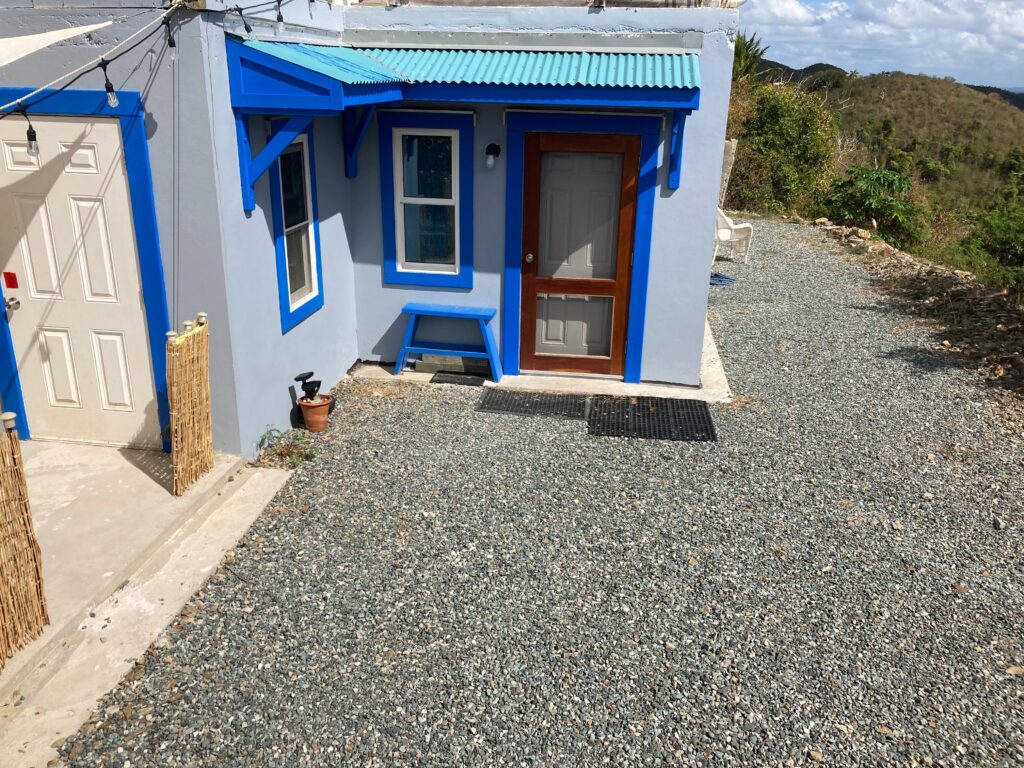 The island of St. John, the smallest and most idyllic of the three United States Virgin Islands, is only a couple hours flight time from Miami. A perfect haven for writers and artists, the language is English, the currency is the US dollar, and no travel visa or passport is required for US citizens. The island is best known for its dozens of postcard perfect white sand beaches, turquoise bays with colorful corals, rainbows of tropical fish, sea turtles, and lush green hills. The famed beaches of the North Shore are only a 12-minute drive from Poet Cottage.
Only nine miles long and three miles wide, two-thirds of St. John is a protected United States National Park filled with nothing but birds, deer, and miles of hiking trails. The presence of the National Park, our pride and joy as islanders, will preserve the unspoiled beauty of our landscape and our spectacular beaches for generations to come.
The island is accessible by ferry from the airport on the larger island of St. Thomas, just a 20-minute ride across Pillsbury Sound, where hundreds of ancient pirate ships are buried under the turquoise blue waters. St. John has no big cities or huge shopping centers and no major nightlife. We have no malls, big box stores, airports, cruise ship ports, in fact there isn't even a stoplight on the island, something we as locals are quite proud of! But if you love crystal-clear water, palm trees, and you need peace and quiet to center yourself in your writing life, then St. John is the perfect place for you.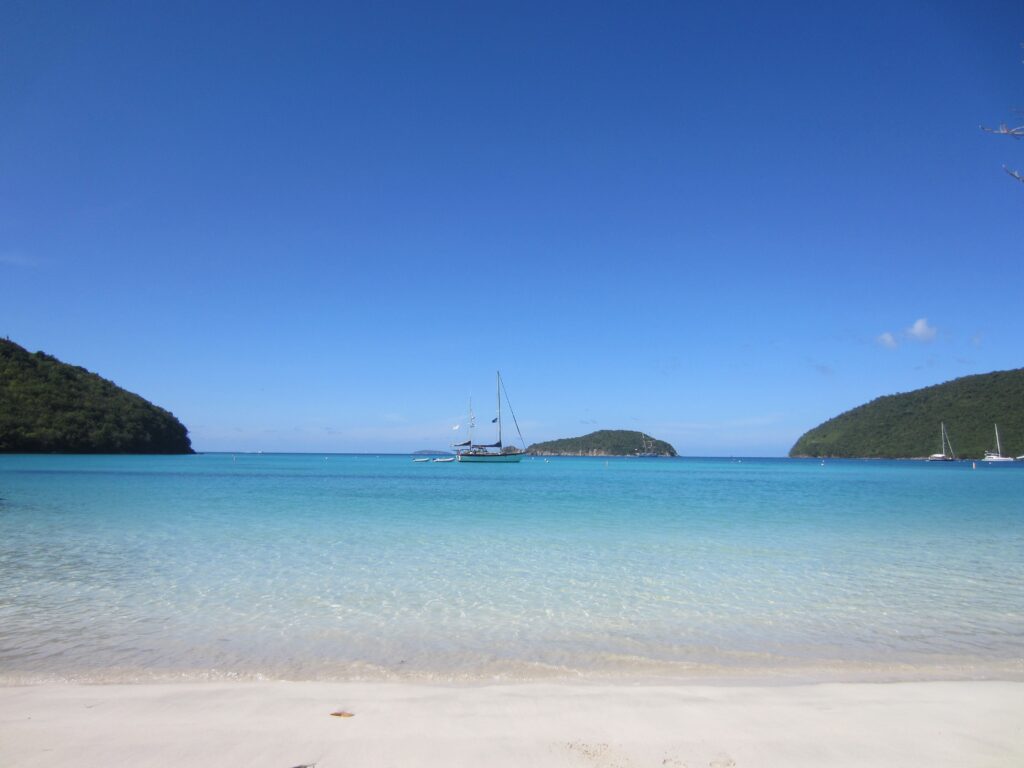 Cottage Amenities
Self check in and check out
Paved, double-wide road leading from Cruz Bay all the way to the driveway of the cottage
Short walk down the hill to shops, restaurants, and live music
Kitchen dining table with 4 chairs
Outdoor dining table with 4 chairs
Queen bed with new mattress
Futon sofa folds out to double bed
View of the ocean and the National Park as well as Coral Bay harbor
Laundry room with stacked washer/dryer
Two-burner glass topped hob
Stainless convection mini oven
Ceiling fans in every room
Large bathroom with walk-in shower
Beach gear, chairs and snorkel equipment
Yoga mat
Please note: Poet Cottage does not have a microwave, TV, or printer and while we LOVE kids and pets, this is not a good cottage for them. There is no smoking in the cottage or anywhere on the property.
Upon booking you will be sent the Housebook for Poet Cottage which will include useful information on travel, what to pack, how to check in and everything you need to know about the cottage. More information on what to do and see can be found here: https://www.vinow.com/stjohn/ and for local news and information that impacts travel, check our the local news blog at https://newsofstjohn.com/
COVID protocols for the US Virgin Islands are in place, to check out the newest requirements please visit the USVI Travel Portal at https://www.usvitravelportal.com/